RIPP-Roots International Primary Programme (Grade I to V)
Developing skills, abilities, attitudes and behavior to
meet the challenges of 21st century.
Keeping in mind the changing paradigm of education today, Roots in a first of its kind initiative has customized Primary Curriculum setting Cambridge International Primary Programme as a benchmark. RIPP is benchmarked with the Cambridge International Primary Programme which comes from one of the World's leading assessment organizations. RIPP is a holistic effort towards achieving a sustainable curriculum which meets the local as well as global educational needs. In continuation of our rich history of engaging students in world class learning and providing them enriching experiences, RIPP has been developed through indigenous effort by our seasoned and experienced curriculum reformers and developers. Our primary programme encompasses 21st century skills-critical thinking, communication, collaboration and creativity promoting Knowledge, skills and values through RSS 3 Es; exposure, expansion and exploration. Designed for children aged 5-11, RIPP provides learning objectives for each year of your child's education. Its step by step programme of learning takes children from the start of primary education to completion, before they move on to secondary education. The RIPP helps school teachers and parents gain a greater understanding of their children's abilities. Continuous assessments of learning objectives are integrated in the curriculum. These assessments provide information to analyse students' achievements, strengths and weaknesses, and give teachers invaluable information to help guide the child in the following year. In the final year of primary education i.e Grade 5, students take the formal examination in all subjects to evaluate their knowledge and application skills.

Moreover, RIPP is a comprehensive primary programme preparing students to be active participants in a lifelong journey of learning. It provides opportunities for students to build meaning and refine understanding, principally through structured inquiry. These are essentially social acts of communication and collaboration. It focuses on the development of the whole child as an inquirer, in the class room and in the world outside. It is defined by trans-disciplinary themes of global significance, explored using knowledge and skills derived from subject areas with a powerful emphasis on inquiry-based learning.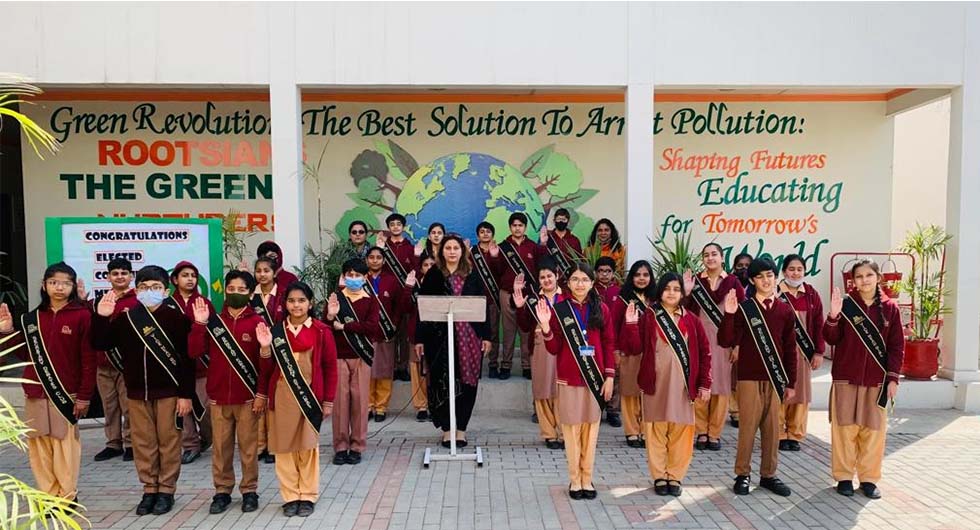 The syllabus of RIPP English enables students to achieve greater fluency, accuracy and confidence in the language as it is spoken and written. English is a gateway to all the other subjects. Roots International Primary Programme's base line is to develop all the four skills of the pupil i.e. Listening, Speaking, Reading and Writing.
Mastering mathematical skills is absolutely essential for future opportunities in school and careers. RIPP maths gives students the personalized practice essential to math success. It also provides hands on experiences and rich, meaningful learning opportunities through the use of higher level thinking skill, situational analysis, reasoning, application of technology and problem solving in an ideal setting. The RIPP mathematics curriculum is presented in five content areas: Numbers, Calculation, Mental Skills, Problem Solving and organizing and using data.
Science enables students to develop a deeper insight and wider perspective on social issues and cultures around the globe and is an effective preparation for further study. Our curriculum aims to assist teachers in developing the child's interest and curiosity about the biological and physical world through incorporation of experimental and investigatory skills in their work.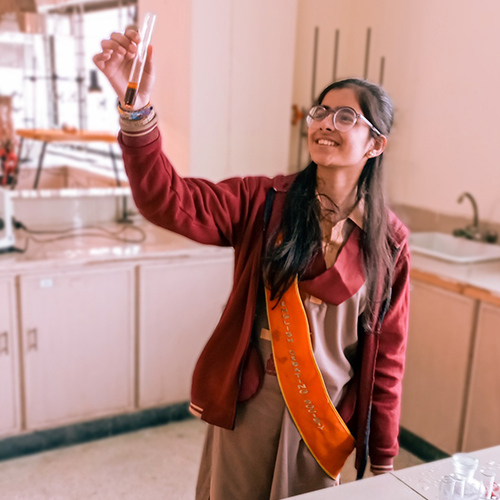 Social studies is a subject that introduces the child to the past and also unveils the present geographical, cultural, economic social traditions and customs. Our curriculum is designed and taught through drama, role play and activities. We have tried not to make it a thrust but rather instigated motivation by introducing diverse cultures through practical activities and facts. Our curriculum addresses how to kindle the child's imagination; arouse their curiosity and make them think logically. It develops nationhood spirit through exposing them to the fundamental history of Pakistan gradually and systematically. Good citizenship traits are instilled all across the curriculum.
Islamic values are inculcated in the young minds. Kalmas and Namaz are an integral part of our curriculum. Roots International Primary Programme cultivates strong moral values according to Islam. Honesty, truthfulness, tolerance, fair play, justice, respect, responsibility, courage and care for humanity are the cornerstone of our curriculum. All religious events are celebrated with tremendous fervour and enthusiasm by students in the school. Through historical stories we inculcate compassion and patriotism in our students.
Urdu is our national language and is introduced alongside English in the montessori school. Strong foundation is laid in the early years by developing urdu reading skills using phonics approach and colourful readers are introduced to arouse interest and imagination of the young learners. All the four language skills listening, speaking, reading and writing are developed in harmony. In the primary years children read story books to enhance their reading skills and develop hand writing script by practicing writing in the work books. Comprehension skills are developed gradually by the proficient Urdu subject teachers.
1ST School to innovate ....
Roots-Intel ICT Joint Curriculum Initiative
1st initiative at Elementary Level in the WORLD by Roots and Intel.
1st School in Pakistan to launch Chinese Language at Elementary Level across ROOTS SCHOOLS
Roots is one of the Pioneer private educational institutions to introduce different foreign languages to its students
1st School to introduce German Language Program in collaboration with

EURASIA INSTITUTE, GERMANY

1st Pioneering Initiatives by Roots School System-Smart Brain, Robotics, Film Making
Launch of Smart Brain Program at Roots – Discover Your Child's Hidden Talents!
Roots Robotics Club Initiative
Unleash the genius scientist in your child!
Film & Drama Making Club Initiative
Environment Education: 1st school to introduce environmental education at Elementary Level
Global Citizenship: 1st School to initiate Global Citizenship and Values Education in the curriculum at the grass roots level
Social Entrepreneurship Skills
1st School to inculcate social entrepreneurship Skills in students at Elementary Level
Launch of First Evening School of creative skills development
Ist initiative at Elementary Level in the WORLD by Roots and Intel. RSS in a first of its kind initiative has customized a unique ICT curriculum for Grade 1-7 in collaboration with In-tel Education Pakistan. A key consideration factor in this regard was that students today, more than ever, need the ability to understand and deal with complex issues and problems. This course has been created to help develop your child's technology literacy, critical thinking and collaboration skills. Through this initiative, Roots is preparing today's young people to flourish in the knowledge based economy of the 21st century. Our goal is to help students develop the higher order thinking skills they need to realize their full potential. Roots was the 1st school to introduce ICT as a compulsory subject in the school curriculum thus, promoting ICT as a common denominator to bridge digital divide. Building of lifelong skills is a part of the roots experience. The Intel-Roots School System Skills for Success Curriculum is designed to equip the students with computer tools and applications that are necessary to live and work in technology saturated world. It is bringing the future within reach for thousands of young rootsians through fun, interactive information and innovative activities. Teachers have to be empowered to be able to prepare the millennials 'the digital natives'. Our training department RCPDD (Roots Continuous Professional Development Department) in collaboration with INTEL is committed round the year to equip the teachers with essential tools for 21st century teaching. In RSS all teachers are Intel certified and undergo numerous training courses for professional development. These courses go a long way in helping the classroom teachers to integrate technology all across the curriculum. 1st School in Pakistan to launch Chinese Language at Elementary Level across ROOTS SCHOOLS. Roots is one of the pioneer private educational institutions to introduce different foreign languages to its students: To promote a culture of peace and harmony, it is essential to understand and learn languages. Roots took the 1st ever initatitave in Pakistan to launch Chinese language classes at the Elementary level across its schools. Young rootsians are learning Chinese language with tremendous interest and are expanding their knowledge and horizons. In the high school many other languages are offered as per interest of the students. Besides learning languages, our students are given the exposure through first hand experiences by visiting different countries of the world by participating in different children's festivals, summer youth camps, international science fairs, youth leadership conferences and environmental summits. Thus roots expands the classroom experiences to global experiences through exposure, expansion & exploration-Roots 3E's Philosophy. Our ultimate aim is to produce humane citizens who could contribute towards a better Pakistan and a better world at large.
Roots school clubs help boost children's self-esteem and self-confidence. By offering after-school activities, our children get the chance to succeed in varieties of different areas and use it to overcome barriers in the subjects they find difficult. The RSS offers in-school and after-school clubs (2:00 pm to 4:00 pm) that teach robotics, musical instruments , literacy, sports, environment education, global citizenship, dramatic & poetry, art & craft, smart brain (Mental Math) and film making. 1st Pioneering Initiatives by Roots School System-Smart Brain, Robotics, Film Making Launch of Smart Brain™ Program at Roots – Discover Your Child's Hidden Talents! It gives us immense pleasure and pride to share with you the first collaboration between Smart Brain™ and Roots Garden Schools (Pvt) Ltd. and introduce this internationally renowned Smart Brain – Mental Arithmetic program in our pioneering initiative Roots Evening School of Creative Skills Development. The school is especially designed to uncover the potential talent in each child and develop it through a variety of creative and skill-based activities. Smart Brain™ is actively engaged in 16 countries and has been doing this for over 20 years. Over 250,000 students around the world attend Smart Brain™ programs every week. Smart Brain program helps students in developing the following foundational mind skills:Concentration , Memory , Self-confidence, Problem Solving, Mental Speed, Logic & Reasoning , Imagination, Energetic and Agile Mind, Critical Thinking, Creativity , Broadened Scope of Thoughts, Emotional Quotient and Positive Thinking.Roots School System has pioneered many innovative learning approaches in its schools for the very first time to make learning an enjoyable experience for your children. Smart Brain Programme is another lead initiative by Roots School System. Assuring you of our continuous commitment to WORLD CLASS EDUCATION for tomorrow's world.
Film & Drama Making Club Initiative:
Acting holds significance because it enriches the personality with confidence and courage. Taking acting lessons is surely the best way to hone your skills and talent whilst gaining experience of working with other talented fellows and building up your knowledge and skills. The main goals of this club are to develop self-confidence, to help students work effectively with others and to increase creative thinking and problem solving skills. This club explores the development of these skills through mime, speech, movement, and improvisation. A key value of film in education is that it is a leveler. With a book children may think they don't have the level of experience needed or feel they aren't bright enough to talk about it but immediately have confidence talking about film because it is something they have engaged with already. Even children with severe learning difficulties and disabilities who struggle with any kind of academic curriculum can often relate to film since film is a universal language.
Roots Robotics Club Initiative:
Unleash the genius scientist in your child!
Roots strongly encourages the children to design, construct and programme their own intelligent inventions and not only to understand technology but to become masters of it. Roots robotics lab has created an environment for children of all ages to learn, explore and express themselves through various types of scientific and technological activities. With so many things to do, children can never claim to be bored. In labs, children learn robotics, programming, mind maths and game development, using latest technology in a fun and meaningful way. Activities are focused on keeping child's brain healthy and active.