CEO & FOUNDER CHAIRPERSON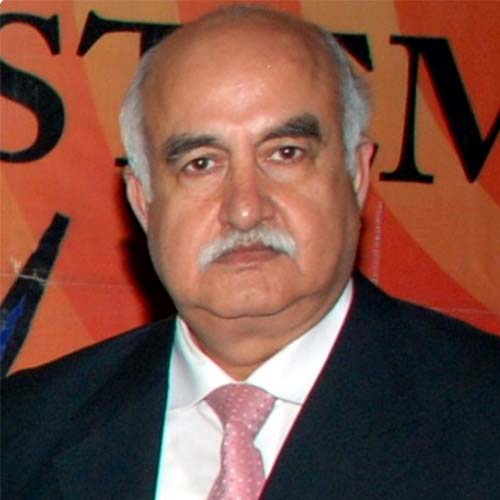 It is a matter of immense satisfaction and pleasure to see the institution thriving in all spheres of education. We are proud of our illustrious alumni who have created a mark in their respective fields
For over 34 years, Roots has been a pioneer, developing interdisciplinary educational and extra-curricular programmes designed to educate outstanding minds, create knowledge and cultivate leaders of tomorrow. I am fully confident that our graduates will use this platform that we have provided them with to launch their future careers, proving to the world that they are completely able to navigate their own paths to success Rootsians! I am extremely proud of you and feel confident that you all will lead our country into a prosperous and stronger future! Pakistan is blessed with exceptionally talented and brilliant young minds and I have always believed that if given the platform, right training and exposure they can break the barriers of mediocrity and achieve the extraordinary. 
All they need is proper guidance and grooming to realize their own potential; and once they do, nothing can hold them back from bringing the positive and much needed change in our society.Rootsians! I am extremely proud of you and feel confident that you all will lead our country into a prosperous and stronger future!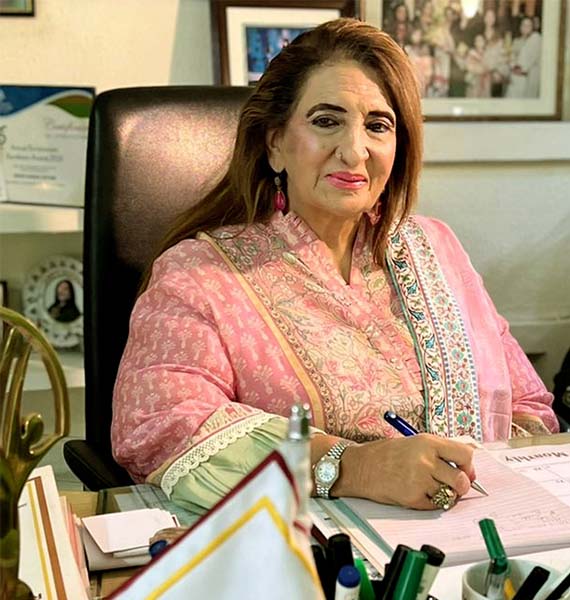 Mrs. Riffat Mushtaq Aizaz-e-Fazeelat
Founder / Chairperson
Roots School System
It gives me immense satisfaction and joy to see the overall development of students for over three decades. Roots is the "home of love, joy and creativity", where every child is loved and respected.
In our pursuit to nurture a child, we continue to place emphasis on holistic learning and growth in our students, with moral values as our compass. We wish to enrich our students' learning experiences by creating more engaged and experiential learning opportunities for them while deepening their learning through reflection. We hope that while we engage our students to enjoy their learning, we develop in them lifelong skills and enduring values that will guide them in their lives. Throughout their school years students are provided with varied exciting opportunities to display their creative abilities and skills and to think and learn logically by participating in a wide spectrum of co-curricular and extra-curricular activities within the school as well as at the national and international forums.
Our broad based international curriculum focuses on project work which cultivates collaboration and team spirit among the students. We are empowering our children with 21st century skills connecting education with the REAL WORLD THROUGH 7C's Critical Thinking | Communication | Cultural Understanding | Collaboration | Creativity | Curiosity | Care for Self, Others & The Planet Our young, vibrant and confident students excel in all the competitions by displaying extraordinary talent and thus earn awards and appreciation for their multifaceted skills. Students are encouraged to understand the cause of things and explore the unknown. They are taught to dream, to aspire for heights of excellence and build lives on the belief "Sharing is the essence of human relationship". Roots 3 E's approach – Exposure, Expansion and Exploration encapsulates what we aspire our students and staff to become. This vision hinges on our belief that each member of Roots family can and will give and achieve his best. We instill nationhood spirit, values of peace, harmony, tolerance, justice, fair play, child rights, and respect for all cultures, good citizenship traits and love for humanity in our students at the grass roots level. With this as our foundation, we are committed to providing them meaningful experiences to develop and realise their potential to their maximum possible. Our staff will always remain the bedrock of school culture and glory as they work together unfaltering in their efforts to nurture our students' varied talents and abilities. At Roots our world is in constant motion, giving birth to creativity and innovation and thus invoking our students' imagination. Thank you for your confidence in us. Assuring you of our continuous commitment in bringing out the best in our children. Our aim is to produce humane citizens imbued with strong values to contribute towards a prosperous Pakistan and a better world at large.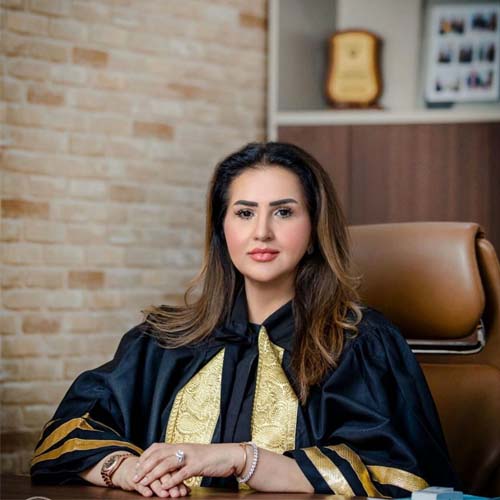 TAMGHA - I- IMTIAZ

Executive Director Roots School System Flagship Campus DHA-1 Islamabad

CEO
Roots IVY International Schools & Colleges IVY College Of Mgt Sciences.
It is a very proud moment for me as I welcome you to the Roots DHA-I Flagship Campus where dreams are shaped and futures transformed. Roots DHA-I invests time and energy in enabling passionate young students to proliferate, embracing educational innovation and curiosity and this culture has produced some of the finest young men and women, our celebrated Alumni contributing their share in the nation building and around the world in their chosen professional fields. The strength of our diversity continues to attract outstanding students to the assemblage of high quality education that contributes towards making our institution one of the very best. Roots DHA-I has come a long way over the years. Our guiding principle has been to provide global education and produce graduates who can envisage the future and work on the universal stage.
We are committed to ensuring that the students who walk our corridors emerge distinctive from the rest, with an approach that would help them excel in any corner of the world. We have certainly achieved that, as we provide a benchmark for quality, and raise the standards of excellence each year. Across all levels you see the culmination of students and staff working together to address complex and challenging targets to equip students with the knowledge, skills and competence needed in today's classrooms and beyond, and nurture educational leaders and researchers. Our achievements speak for themselves, as each year our students accomplish outstanding results, earning placements in world renowned institutions, with substantial financial scholarships.
In order to meet the new challenges of the 21st Century, we must set new standards for success. Roots DHA-I is a multi-disciplinary, cosmopolitan institute which has earned international recognition for providing its students with a wide array of fields such as medicine, engineering, arts, law, business, communication and community services etc. We instill zeal and vibrancy in all that we do, pursuing creativity, innovation, discovery, research and intellectual exchange. We continue to urge our students to dream more, learn more, do more and become more. When every discipline of science, art, literature, philosophy becomes the manifestation of each individual personality, then glorious and dazzling achievements become possible, and that is our vision. Our students reflect our success in training future leaders. Our graduates have become reflective agents who constantly seek to grow professionally and serve with creativity and imagination. This reflects the cultivation of our vision and commitment to the field of education and success. I wish to congratulate all my students for demonstrating the courage to achieve their dreams, and gaining coveted acceptance offers from prestigious universities including Ivy Leagues, as well as other prestigious institutions such as Oxford, Cambridge, Cornell, New York University etc.
As Bernard Edmonds said, "To dream anything that you want to dream. That's the beauty of the human mind. To do anything that you want to do. That is the strength of the human will. To trust yourself to test your limits. That is the courage to succeed".
I wish you a very exciting and enlightening experience in our exclusive "most happening and stimulating" school environment.